Directed by Prof. John H. Smith (German).
Nature and Culture; Identity and Community; Authority and Subversion.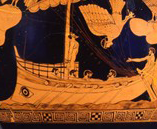 Nature and Culture: Professors John Smith and Ermanno Bencivenga.
Texts included Homer: The Odyssey; Bacon: Novum Organum; Darwin: The Origin of Species; Heidegger: Question Concerning Technology; Bencivenga: Philosophy at Play; Stoff et al.: The Manhattan Project: A Documentary Introduction to the Atomic Age; Silko: Ceremony.
Identity and Community: Professors Patrick Sinclair, Leslie Rabine, Lindon Barrett. 
Texts included Augustine: Confessions; Plato: The Symposium; Descartes: Discourse on Method; Burroughs: Tarzan of the Apes; selections from feminist sociologists relating to student Oral History projects; Hughes: The Big Sea; Larsen: Quicksand; Kingston: Woman Warrior; Euripedes: The Bacchae. 
Authority and Subversion:
Texts included Virgil: The Aeneid; Shakespeare: The Tempest; Locke: Two Treatises on Government; Roland: Memoirs: A Heroine of the French Revolution; Mill: On Liberty; Dune: Notes of a Red Guard; Havel: Open Letters, texts by King and Malcolm X.