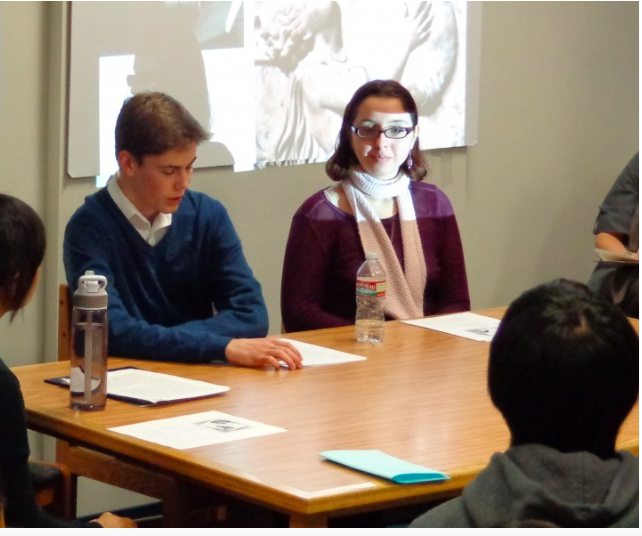 New : 2018 Arts Competition
UROP Research Paper Awards
Humanities Core and the Undergraduate Research Opportunities Program (UROP) have combined efforts to recognize excellence in undergraduate research. Each spring, instructors nominate outstanding research papers on an independently chosen topic in the course theme, and a panel of instructors selects the ten best.
2017 Award Winners
Gouri Ajith, "The Immolation of Sampati Kuer: Hindutva and the Defining of Volition and Agency in Sati"
Matthew Chong, "Pilipino Paradox: Carlos Bulosan's Vision of Identity in American is in the Heart"
Ying Chow, "1984: Seeking Humanity in a Heartless Society"
Isabel Galvez, "Into the Shadows of Identity: On Gloria Anzaldua's Borderlands/La Frontera: The New Mestiza"
Kimberly Hu, "Frankenstein–from Humanity to Monstrosity"
Katie Lynch, "Walls and Waiting: The Power of Expectations in Access Denied"
Alice Nguyen, "Its own Worst Critic: Language's Self-Analysis in George Orwell's Animal Farm"
Gwynette Paez, "Seeking its Hidden Identity Within Contemporary Japan"
Michelle Wan, "Beyond Visualizing Homelessness: Ethics of the Aesthetic Production of the Homeless"
Philip Wilkinson, "The Chiasmus of the Augustus of Prima Porta and its Propagandistic Utility"
2016 Award Winners
Samiha Ali. "The Birangona Women of Bangladesh: Analyzing Representations of Sexual Violence during the 1971 Liberation War."
Sean Beall. "How Martin Luther Killed Mars: The Effects of On War Against the Turk on the European Psyche."
Michelle Bui. "Beckett and Brecht: Thoughts on the Human Condition."
Erika Higbee. "Ip Man 2 as a New Discourse: Challenging the Existing Hegemonic Order."
Stephanie Matsuno. "The Kamikaze of Individual Dreams: A Film Analysis of Hayao Miyazaki's The Wind Rises."
Aidan McGeath. "Fantastical Conflicts: War as Storytelling Tool in Glen Cook's The Chronicles of the Black Company."
Nicole Nguyen. "Media Representations of the Nanking Massacre."
Dominique Oei. "Constructing Magneto: the (Anti)-American Vision of the Holocaust."
Meghan Osato.  "Proving Loyalties: The Japanese American Struggle for Agency During World War II."
Darlene Vales. "Hamilton: Bringing Together the Past and the Present."
See also prize-winning essays from previous years.