Why Humanities Core?
For over fifty years, Humanities Core has been a vital first-year experience and gateway to success for undergraduate students at UCI. Our students are exposed to different teaching styles and academic methodologies, while simultaneously learning how to adapt to a range of different writing and communication contexts. As a student in Humanities Core, you'll efficiently satisfy numerous General Education requirements early in your academic career, giving you more time to focus on coursework and research in your major in the years that follow.
You'll learn practical skills for any major: how to take notes and study for exams, to conduct research online and at the university library, and to revise and present your work to academic and professional audiences–and to broader online publics. You'll even design and maintain a website to share your thoughts and archive your research findings, a key advantage in contemporary digital literacy.
Follow @ucihumcore on Instagram
Our unique partnerships with the Campuswide Honors Collegium and the Undergraduate Research Opportunities Program provide exciting prospects for academic distinction at UCI.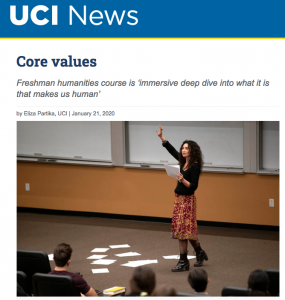 "Taking HumCore was undoubtedly the best decision of my freshman year."
Ashima Seth
Biological Sciences, Class of 2020
Course Workload and Resources for Student Success
Humanities Core Writing (1AS) is a 4-credit seminar (or 6 credits in the case of 1AES, which satisfies the Entry Level Writing Requirement) that you take alongside a thematic 4-credit lecture course (1A). Thus while Humanities Core is effectively two courses (lecture and writing), students in the program experience the workload as being significantly less, as the exams for lecture (one midterm and one final) and the writing assignments for seminar are staggered to support your schedule, even if you are taking a heavy course load. We've designed our reading assignments to focus on quality (not quantity) and to taper off substantially during exam weeks and while students work on their spring research projects. Moreover, not all of your assignments will be reading — students browse image galleries, explore digital archives, watch movies, and listen to podcasts.
Our seminars enjoy some of the lowest student-to-faculty ratios in the university and are capped at 19 students. All students in HumCore receive sustained, one-on-one attention and feedback from their instructors as they build their study skills and draft their writing assignments. Writing-intensive seminars (HUMAN 1AES and 1BES) are available for students who need to satisfy the Entry Level Writing Requirement and want extra help on grammar, mechanics, and college-level composition and communication. In partnership with the Center for Excellence in Writing and Communication, all students can access personal consultations with Humanities Core writing specialists, no-pressure study and reading groups, and peer tutoring. These resources are free, easy-to-access, and have been specially tailored to the HumCore curriculum.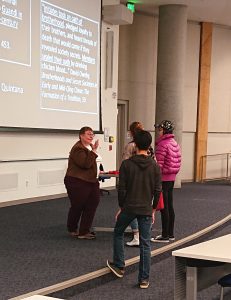 My seminar instructor's close attention to detail and critiques improved my writing, and I learned to read critically by focusing on each author's intent, writing style, and place in history. Now that I am going to law school, reading court rulings and analyzing case briefs comes easier with my strong background in critical thinking and interdisciplinary research primed by Humanities Core.
Hayk C. Kosaian
Political Science, Class of 2019 
Fulfilling General Education Requirements
Successful completion of the six-course HumCore sequence (the lecture and writing seminar in fall, winter, and spring) fulfills seven of the General Education requirements for every undergraduate degree. The three quarters of lecture and writing in Humanities Core satisfy the following categories:
I. Lower-Division Writing (two courses)
IV. Arts and Humanities (three courses)
VII. Multicultural Studies (one course)
VIII. International Issues (one course)
More information about course Enrollment and Policies, including a guide to which seminar is right for you, is available on this site. We suggest that you speak with your academic advisor if you have questions pertaining to your degree program.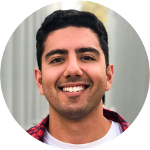 Humanities Core was an indispensable experience as a first-year student. The program has intelligent, thoughtful professors from diverse backgrounds that pushed me to improve my writing and critical thinking skills while making me a more informed citizen of the world. It is much more than a writing class — it is a creative journey that I recommend to anyone regardless of major and background.
Dara Jovkar
Informatics, Class of 2020
Humanities Core for Majors Outside of the Humanities or Undecided/Undeclared
HumCore will help you to develop the communication skills that are necessary for success in any field. Across STEM fields, graduate programs and labs continually emphasize the need for their students to understand the human and ethical dimensions of their work. Past students report that the transferable skills they developed in Humanities Core gave them an edge later on in working with faculty and in conducting research. Many of UCI's most successful applicants to competitive graduate programs in law, business, science, and medicine started their academic careers in Humanities Core and cite it as a formative experience.
Undecided/undeclared? Getting seven GE requirements out of the way now will clear your schedule for required coursework and research once you've settled on a major. Think of HumCore as a buffet where you can sample different approaches and topics as you discover your own interests and career trajectory.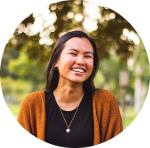 As a public health major, it was refreshing to add Humcore to my science-based coursework. I appreciated how each quarter was different, letting us explore various keystones of what humanities is about. It became a conglomeration of literature, art, film, politics, society, and history all in one, meaning that I was able find my own voice and interest in almost any topic.
Francesca Querol
Public Health Science, Class of 2020
As a first-year business economics student, my experience in Humanities Core allowed me to branch out into different ways of thinking that I wouldn't have been exposed to in my major classes. By experiencing topics that resonated with me, I was able me to better understand my past, heritage, and the impact I want to leave after college.
Luke Sumaquial
Business Economics and Computer Science, Class of 2021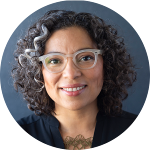 The breadth and depth of the material presented in Humanities Core became the foundation for future learning. It became an armature to which I could hang other concepts and ideas. After several graduate degrees, it remains one of the most important courses of study I have ever undertaken, and for that I am grateful.
Claudia Castro Luna
Anthropology, Class of 1989. Current Poet Laureate of Washington State
Your First-Year Experience in HumCore
Cutting-edge lecturing faculty members who represent over ten departments and programs across the school will join our dedicated seminar instructors in the Worldbuilding cycle, giving our students a wide-ranging exposure to different fields and methods of analysis. Special events that bring thinkers and creators to UCI from around the world make Humanities Core much more than just a class. We are committed to the belief that we all learn best through active engagement and discussion, not through passive consumption or rote memorization. Whatever shape university learning takes in the years to come, it is important to us that the Humanities Core seminar remains a space for dialogue and exchange. As always, we aim to make Humanities Core a source of connection and community-building for our students. It is our hope that the friendships and study groups you forge in Humanities Core will be sustaining and vital relationships throughout the whole of your academic journey. Humanities Core has been a signature first-year experience at UCI for over fifty years, and we can't wait for the class of 2027 to build new worlds with us.
Have Questions?
To learn more, read about Enrollment and Policies, read more alumni stories, or contact us.