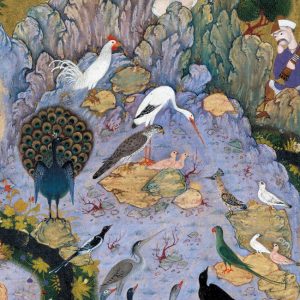 This quarter, we explore how animal figures have been used to understand what it means to be human. By tracking beasts through ancient tales, medieval manuscripts, and Renaissance drama, what can we learn about the politics and belief systems of the premodern world? Do our ideas of a "natural" hierarchy inform the power structures of our social world, or vice versa?
Animals, People, and Power
What is an animal? How much of what we know about the natural world actually comes from reality, and how much is a projection of human concerns onto other living things? When we represent animals in art, literature, or scientific discourse, what kinds of boundaries between "humanity" and "animality" are drawn? Why are those boundaries so often transgressed or transformed? What kind of cultural or political work is performed when we compare animals to people, or people to animals?
Fall quarter's lecturing faculty from the departments of English and Comparative Literature will lead students in readings of classics from Europe and the Middle East, including the fables of Marie de France, Kalilah wa Dimnah, the mystical poetry of Attar, and major works by Ovid, Chaucer, Shakespeare, and Zakani.
In seminar, students will be guided through the transition between high school and college-level writing and communication. They will build a basic website for ongoing multimodal projects, conduct a rhetorical analysis of a medieval animal fable, and write a literary analysis of A Midsummer Night's Dream.

Writing
Prompts
Research
Help
Writing
Center
UCI
Support
LECTURING FACULTY
Prof. Rebecca Davis (Dept. of English)
Prof. Julia Lupton (Dept. of English)
Prof. Nasrin Rahimieh (Dept. of Comparative Literature and Humanities Core Program)

Image: Detail from an illustration by Habiballah of Sava in Attar, Language of the Birds, folio 11r. Ca. 1600, Metropolitan Museum, New York. https://www.metmuseum.org/art/collection/search/451725